 
Temptation Witch
Temptation witch 

An onahole with a story
As always with Toy's Heart, this onahole has great packaging with a gorgeous anime girl adorning the front. Boots, stockings, tiny piece of underwear, exposed breasts and… A hat with eyes?! Like many Toy's Heart products this masturbator comes with a story: the hat has been cursed and wants to regain its human form. In order to do so, it needs the mana, or life force, from sperm… And he's enlisted this sexy witch to help him!
The outside of the Temptation Witch
The Temptation Witch weighs nearly 600 grams, which makes her a lot bigger than most onaholes. Thanks the the weight and the textured outside you can really grip this onahole tightly, and the thick walls ensure you still won't feel your own hand.
Material
Toy's Heart decided to use their amazing SafeSkin material for the Temptation Witch. The material is very soft to the touch, flexible but not floppy and doesn't get damaged easily. It has a subtle sweet scent and it will be dry almost right away after you wash it. SafeSkin is one of the best onahole materials on the market, and if you haven't tried it yet you really should!
The inside
The tunnel of the Temptation Witch absolutely doesn't disappoint. When you are past her labia there is a tight ring which ensures a good vacuum and prevents your lube from leaking out. After that there are different areas with different types of ridges: ridges, horizontal, vertical, twisted… It feels great! Every time you thrust inside you will feel these different types of stimulation and you can switch it up by staying in the front for a while and then thrusting deep inside.
At the very end you'll find a wider room with small nubs to rub the head of your cock. This is also called a "vacuum room", because it helps make the vacuum stronger so the toy really sucks on your cock.
One potential downside of the Temptation Witch is that it's quite a noisy toy. It makes sucking and smacking sounds, and thought that can be fun it's definitely something to keep in mind.
Cleaning
The aforementioned SafeSkin material ensures that cleaning this toy is quick and easy. Rinse her out under the tap, squeeze the water out, and use some absorbent cloth for the last bits of moisture.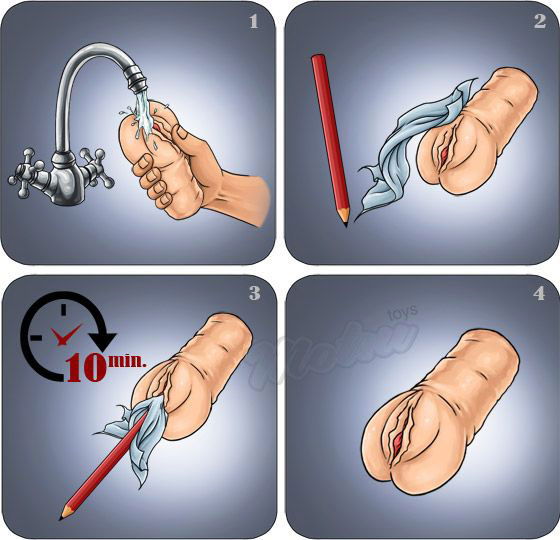 Like a fairytale
This onahole feels great in your hand because of the high-quality material, the hefty weight and the thick walls. The tunnel is very detailed and has the quality we know and love from Toy'sHeart. Like every fairytale, this one is guaranteed to come with a happy ending... Definitely a must-have!

Properties
Total length: 18.5cm
Total width: 7.5 cm
Tunnel length: 15 cm
Weight: 585 grams
Material: SafeSkin
Made in Japan by Toy'sHeart